On December 28th, 2005 the  initiator of the site, Hans van der Velden, my husband, passed away. After his death I continued maintaining the site and collecting Stabat Mater CDs. The desire and the need to renew the site grew stronger and stronger.  With the help of the Stabat Mater Foundation (Oirschot, the Netherlands) that wish became a reality. The site got a total new look and the technique could be adapted too. Now all data are encoded in a database, so both entering (for me) and searching (for you) has become much more comfortable. I am very happy with the results and I hope you too! On December 28th 2015, ten years after his death, the site will be officially online. So a memorable day in various ways!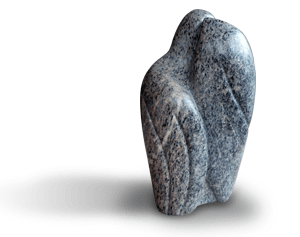 Top right you see the statue of a mourning woman. This beautiful statue was made by Sandra, Hans daughter, a long time ago. She made it for her father. For me this statue not only symbolises the grief of Maria, but of all mothers (and fathers!) of all times, all over the world who are mourning about loss of a child. That is why I wanted to have this picture on the site. Sandra gave me permission to do so.
There is also a slideshow. You see pictures of Mary, standing near the cross on which Jesus is hanging (Stabat Mater Dolorosa). Many pictures were made in churches, it is the twelfth station of the way of the cross. Taking these pictures became a habitude, wherever we went. I still do it and others are helping me. It is a pity I do not know exactly where some of them were made. The most beautiful photos were made by Ignace, a friend of mine. He took lots of pictures, among others things in Germany, Spain, Italy and Austria.