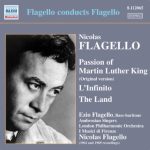 Courtesy of Mr. Hubert Maillard from Switzerland I could add two new Stabat Mater compositions to my site.  The first one is by Nicolas Flagello (1928-1994) who composed a Stabat Mater just as a part of a composition dedicated to Martin Luther King titled  The Passion of Martin Luther King, a combination of five texts from the Latin Liturgy and excerpts of the famous speeches by Martin Luther King like In the Struggle for Freedom, We have got some difficult Days ahead and I have a Dream.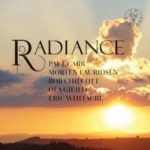 The second one has been composed by Paul Carr (born in 1961). Paul Carr was commissioned by the English Arts Chorale in 2017 to write the Stabat Mater which received its World Premiere on this CD. Paul Carr has divided his Stabat Mater in six movements. He gave them English titles:
I At the Cross, II Who would not weep? III O thou Mother, fount of love! IV All I ask of thee,         V Thy grief divine, VI In Paradise with Thee.
The last movement is the longest and begins with a reiteration of the words of first stanza (Stabat Mater Dolorosa). I listened to his Stabat many times because I love it!