Almost everyone of us must have heard about the German poet Johann Wolfgang Goethe and his famous work Faust, I suppose. But who did actually know that Goethe in this tragic play, refers to the Stabat Mater text?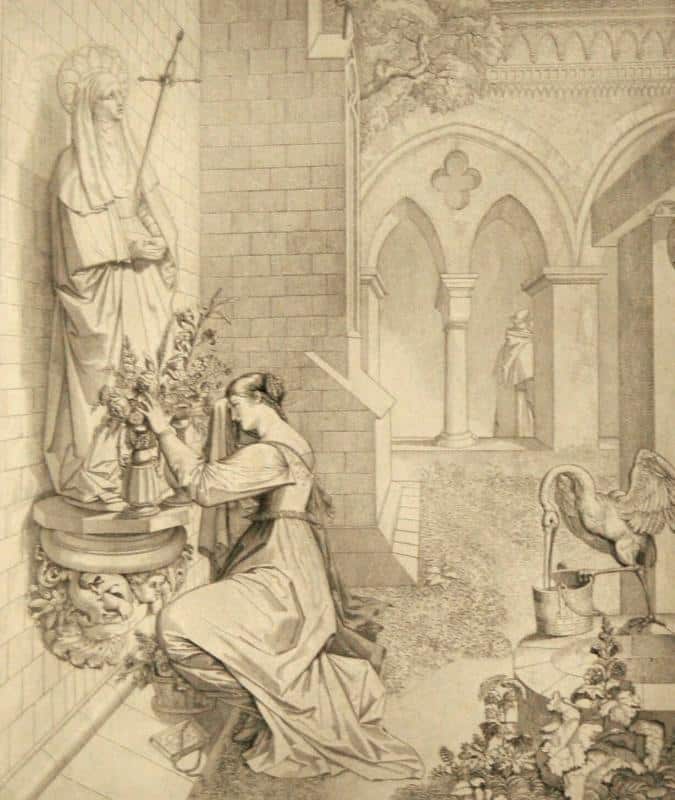 In Faust he describes the following – medieval – scene: an old stone city wall. Gretchen, a young woman, seduced by Faust with the help of the devil, and now pregnant, feels desperate. She is on her knees in front of the statue of Mother Mary, who has been pierced by a sword. In her agony, Gretchen identifies herself with Mary, who has suffered so much because of her Son. For Gretchen there is no way out: as an unmarried pregnant woman she will be punished; even though it is not her fault. She will not be allowed to keep the baby. She begs Mary for help and forgiveness: incline your gracious face toward my distress! (Faust Part 1, published in 1808). The scene is titled: At the city wall or Gretchen in front of the statue of the Mater Dolorosa:
Ach neige,
Du Schmerzenreiche
Dein Antlitz gnädig meiner Not!
Das Schwert im Herzen,
Mit tausend Schmerzen
Blickst auf zu deines Sohnes Tod.
Ah lean down,
you who are full of sorrow,
incline your gracious face toward my distress!
A sword in your heart,
with a thousand agonies,
you gaze at your dead son.
The text Ach neige, du Schmerzenreiche is almost the same as the first stanzas of the Stabat Mater poem! The Faust story has been well described in the CD booklet accompanying the live recording of Schumann's  Szenen aus Goethes Faust at the Royal Concertgebouw Amsterdam:
It was Goethe who transformed the rather superficial legend into profound world literature. His Faust is both a scholar with an unbridled thirst for knowledge and experience and a young man in love who, through his unbridled passion, plunges his beloved Gretchen into misfortune. At the same time, Faust is a chess piece in a cosmic game, the subject of a wager between the devil (Mephistopheles) and God, centering on the steadfastness of the human soul in its eternal struggle between good (God) and evil (Mephistopheles).
Over the centuries the Faust legend has been a source of inspiration for plays, poems, songs, operas, ballet, novels, films, and even comic books.
Please read the complete text in German and translation by Richard Stokes and listen to Schumann and Schubert who have set the supplication of Gretchen to music.