On Saturday September 30th I visited a concert by PRJCT AMSTERDAM in the Philharmonie in Haarlem (the Netherlands). They performed among others the Stabat Mater by Pergolesi, Maarten Engeltjes and Rosemary Joshua were the soloists. Of course, I always love to listen to Stabat Mater concerts but I had chosen this performance because of the collaboration with a Dutch writer, Thomése, who red several pieces from his book Schaduwkind (Shadow Child) about the loss of his infant child.
First things first: I must say I enjoyed this evening a lot, I loved the playing and the singing, especially Maarten Engeltjes, a Dutch countertenor, who has a heavenly voice.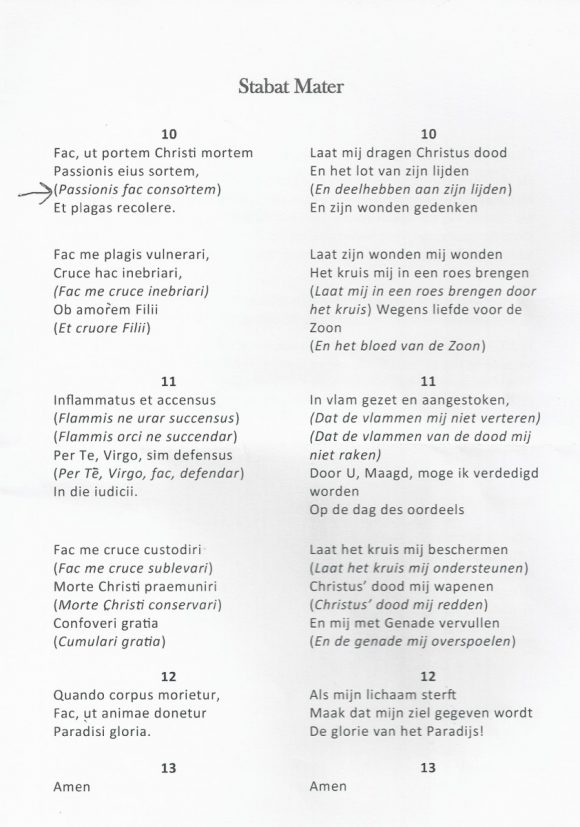 However, after the break I got a bit distracted because of the text in the music programme. The original Latin text and the Dutch translation of Stabat Mater had been literally copied from the Ultimate Stabat Mater site, without my permission and without mentioning the source!
That Dutch translation has been made by my late husband Hans van de Velden, the initiator of the site. I recognized it immediately, through the text between brackets and printed in Italic, (please see for example section 10 and 11 of Pergolesi in the programme).
(Forgive me for a small "technical" elaboration:) Two versions of the Latin text exist: the "Analecta"-version and the "Vatican"-version. The last one differs on several points from the "Analecta"- version. In his Stabat Mater composition Pergolesi used the "Analecta"-version of the text (with the exception of line 2 in stanza 16). In the programme of PRJCT you will find the "Analecta"-version but (!) with between brackets and in Italic the Vatican variations. Exactly as you find it on the Ultimate Stabat Mater Website. Both versions have been translated into Dutch by my husband. He explains some things about the text and translation. Please have a look at https://stabatmater.info/dutch/.
It happens many times that concert organizations from US or Europe ask me permission for using a translation (Hans also made an English translation), in their concert programme.  Of course, that's all right for me if only the source of the translation is mentioned. I regret that this has not been happened this time and besides that the translation in the concert programme  was so clumsy (with the Vatican alternative between brackets). What a pity!