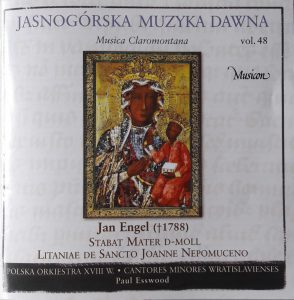 I just added Jan Engels Stabat Mater. For a long time Jan Engel was on my list of missing CDs. Thanks to Mr. and Mrs. Lee from Baltimore I could add this CD to my collection. He sent the CD to me as a gift. He wrote:
…I happened upon the Stabat Mater site many years ago and searched out many of the titles listed here. I always wanted to contact Hans and let him know how much I appreciated his work but unfortunately I never did. Kathy and I wanted to send you this CD of Jan Engel's Stabat Mater to show our appreciation to you for continuing the site…
Thank you both so much!