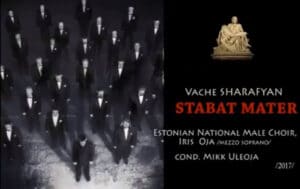 We just added three Stabat Mater composers to our Ultimate Stabat Mater Website. The first one by Vache Sharafyan from Armenia, has been composed for male choir and mezzo-soprano. Mr. Sharafyan was kind enough to share two excerpts of his Stabat Mater with us. His Stabat is dark and intensely sad, the male choir is beautiful. Sharafyan says the following about his composition: …in my STABAT MATER I strive to create a dialogue through the times – the real story and its content, prayer and nowadays expressiveness… kind of a dialogue of the time and the eternal.
Gisbert Näther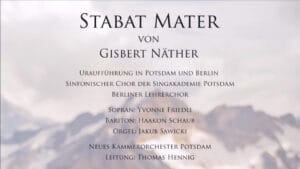 is from Germany and his Stabat Mater was premiered on November 14th 2016 in the Erlöserkirche in Potsdam. He passed away in Berlin on November 9th, 2021.
This recording is from November 15th 2016 in the Gethsemane Kirche in Berlin. His daughter, Judith Montanus, was kind enough to point our attention to this recording. Thank you so much!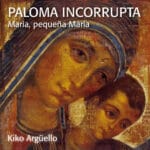 The third one is from Kiko Argüello from Spain. An existential crisis brought about a serious conversion, which lead him to dedicate his life to Christ and the Church and to researching and creating religious art. Convinced that Christ is present in the suffering of the innocent and the lost of the earth, in 1964 he took up residence among the poor in the barracks of Palomeras Altas, on the outskirts of Madrid. There he created a new way of preaching and developed the Neocatechumenal Way, a way to arrive at the Roman Catholic faith. The interpretation is performed by a large group of musicians and singers from all over Spain, members of the Neocatechumenal Way.