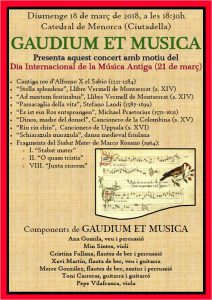 In 2010 I added the Stabat Mater by Marco Rosano to my collection. Marco Rosano was so kind to send me the studio recording as well as the Australian recording on DVD. The audio cd is available on Amazon.com. I love this composition very much and I was so surprised to get an e-mail from Ana Gomila Domènech from Menorca (Spain). She is the singer of Gaudium et Musica, a Spanish ensemble of Early Music, and they are playing (among others) three parts of Marco Rosano's Stabat Mater on March 18th in Menorca's Cathedral.
Ana had listened to the Marco Rosano Stabat Mater at Radio Clásica, in Spain. The first piece that she  heard was "O quam tristis". She loved it so much, it was really very touching to her, so she shared it with her partners of Gaudium et Musica.
She wrote me:
we have a principal singer -that's me, Ana Gomila- and a secondary one, Xavi Martín, he plays flute and guitar. I sing all pieces of our repertory and he does the second voice in some pieces. You can listen a complete concert from us if you looking for "Gaudium et Musica in concert" in my blog or in my personal YouTube channel.
Listen to their O quam tristis et afflicta. Thanks Ana!