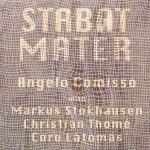 I just added the Stabat Mater by Angelo Comisso. Angelo Comisso did not only use the Stabat Mater text. Part 7 is titled Nell'apparir del sempiterno sole composed by Francesco Soto de Langa (16th century) and rearranged by Comisso Stabat Mater. I did some research and I think it is a Christmas song.
Though I am not a real Jazz-fan, I love it, because of the trumpet and piano solo's and improvisations. And the womens's choir is great! I contacted Mr. Angelo Comisso about his Stabat and he told me he wanted to compose his Stabat Mater as a tribute to all mothers in the world, to reflect the pain of a mother losing her son. Every day and in every corner of the world we have "Stabat Maters", grieving for the loss of their children.
Mr. Hubert Maillard pointed me to this CD.