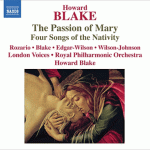 I just added a new composer to my site: Howard Blake with The Passion of Mary. Mr. Hubert Maillard pointed me to this CD. His Stabat Mater is a part of Blake's second oratorio, titled The Passion of Mary. In Part 3 the first ten stanza's of the Stabat Mater text have been used. The London premiere was in 2008 in Cadogan Hall. Here is some information about the complete composition:
Part 1: Visitation, Nativity and Childhood (Mary, Prophet, Simeon, Jesus as a boy and Choir).
Part 2: Temptation in the wilderness , Sermon on the Mount, Crucifixion (Satan, Jesus as a man, and Choir).
Part 3: Stabat Mater Dolorosa (Mary and choir).
Part 4: Resurrection, Salve Regina (Mary, Soloists and Choir).