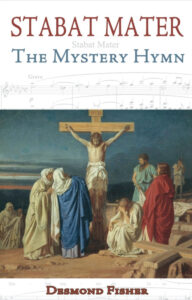 Desmond Fisher was an Irish journalist, who worked as a reporter, correspondent and newspaper editor in the United Kingdom, the United States and in his native Ireland. Desmond got in touch with me after he stumbled upon The Ultimate Stabat Mater Site during his research for his book Stabat Mater, the Mystery Hymn. Desmond Fisher was fascinated by the Latin poem and dedicated the final two years of his life to this book. He was interested in how true the familiar English translations are to the original Latin. What did the author really try to say? Why did he use a particular poetic style? And… who was the author anyway? His first objective was to determine which of the seven listed contenders was the most likely candidate as composer of the Stabat Mater poem. This list includes three Popes, three Saints and one layman, Jacopone da Todi. Desmond Fisher thought it most likely that Jacopone da Todi was the composer, despite having been imprisoned and excommunicated by a pope. In Chapter 8, titled Pros and Cons, Fisher presents ten(!) arguments arguing for Jacopone da Todi's authorship. However, he concludes by saying:
…Nevertheless, in spite of all those arguments in favour of Jacopone's authorship of the poem, it has to be admitted that in style and content it is very different from the other poems that can be definitely credited to him…
Only after this solid, historical study to the origin and authorship of the Stabat Mater text, Desmond presents and explains the two translations he made himself; a literal translation from the latin text, and a more poetic interpretation in verse. He then compares, analyses, and discusses several other well-known English translations of the poem by Edward Caswall, Beatrice E. Bulman, D. F. MacCarthy and the Collegeville Hymnal.
I was delighted to read Chapter 23, A Dutch Contribution which is dedicated to the initiator of the Ultimate Stabat Mater site, Hans van der Velden. Hans' English translation is also presented in the book! The book was published in 2015. Desmond Fisher died on 30 December 2014; he was 94 years old. His son, John Fisher, was so kind to contact me and send me a copy of the book. Thank you so much!