…After following what happened in Mariupol (which in English means the 'city of Mary') just a year ago, I had decided to write a Stabat Mater inspired by those events. Now my composition will be performed here in Munich at the beginning of April…
I was touched by the mail from Mr. Benaglia about his composition. Unfortunately I wasn't able to attend the premiere in April, but now I will have a second chance on July 22nd. Mr. Benaglia was kind enough to share the recording (April 2th) with me. It is a wonderful piece and sometimes full of hope, I think. I love the traditional tonal language.
Lucio Mosè Benaglia is an Italian composer now living in Munich, Germany. This is the story of his Stabat Mater for Mariupol. It was written in the spring of 2022 when the terrible images of the bombing of this city, unknown to him until then, were going around the world. He wanted to learn more about Mariupol and came across the short but significant history of the city which was founded in 1799 by a group of Greek merchants that gave it the name Mary's City. Dedicated to the mother of Jesus, the city soon developed into a rich open city full of life and culture, a hub of different ethnic groups and religions that were able to coexist for decades making the city flourish. Mr. Benaglia about his Stabat Mater in the program notes:
…Remembering this history and its name gave me the idea of setting the text of the Stabat Mater to music. The Stabat Mater is one of the most frequently set texts in the Christian tradition of all time and depicts the pain and suffering of the mother of Jesus under the cross. I have thought of grouping the twenty stanzas of the hymn in such a way as to produce fourteen pieces corresponding to the number of the Stations of Cross…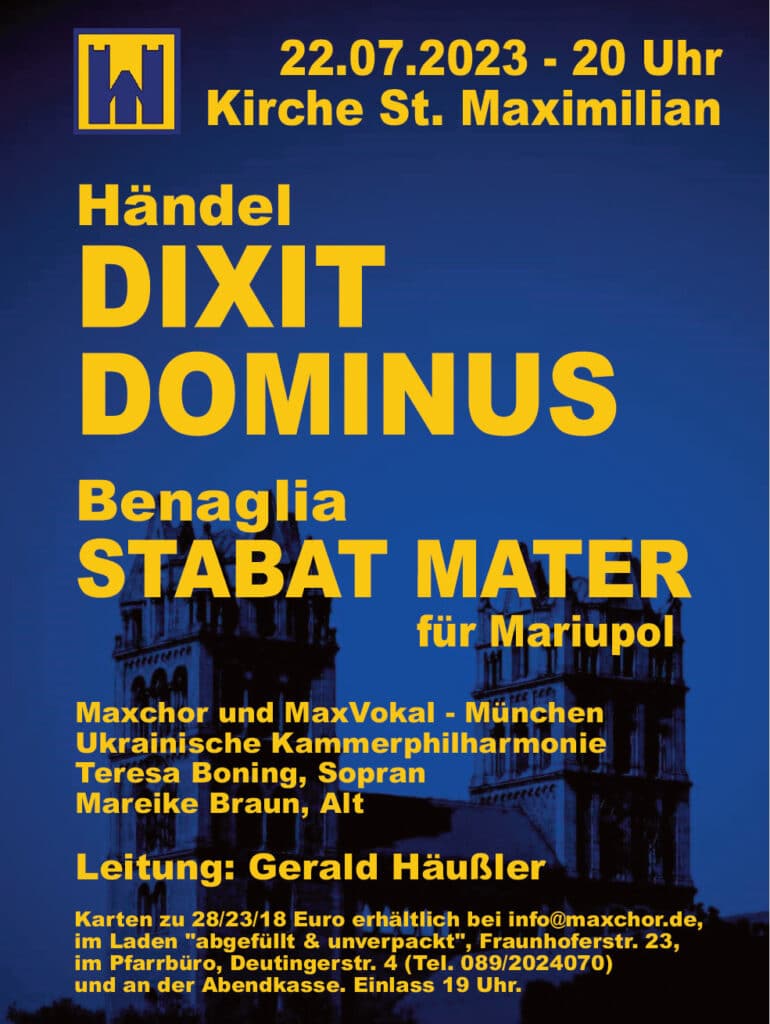 The Stabat Mater for Mariupol will be performed on July 22, 2023, at 8:00 PM in the St. Maximilian Church, along with Handel's Dixit Dominus.

Ukrainian Chamber Philharmonic Orchestra
Maxchor and MaxVokal – Munich
Teresa Boning, Soprano
Mareike Braun, Alto
Gerald Häußler, Conductor.

Tickets (€ 28,- € 23,- € 18,-) are available at info@maxchor.de, at the store "abgefüllt & unverpackt," Fraunhoferstr. 23, and at the box office in the evening. The church will open at 7:00 PM.
Thank you so much, Mr. Benaglia, for sharing the story of your Stabat Mater with us!